Message Testing with an Open Testing Platform
The Open Testing Platform analyses production data to find, mask and make the right data for testing. Testers avoid data bottlenecks and uncertainty about to test in-sprint. Organisations enjoy reduced compliance risks, while critical message layers are tested rigorously before every release.
Systems today rely on message layers – testing can't rely on manual TDM
Messages are the lifeblood of technology today, fuelling everything from internal systems to global banking infrastructure. However, they also create complexity and bottlenecks for testing and development. Production messages are fast-flowing, containing high-volumes of varied and sensitive data. Hunting for exact test data combinations in vast message queues is time-consuming, while anonymising or creating new message data risks breaking tests as the data must link consistently across many complex systems. Data in development environments must furthermore be more varied than production, to test negative scenarios and outliers sufficiently. Making or moving data manually to test environments is simply not an option for message testing. An automated and reactive approach is needed to move complete, compliant and up-to-date data throughout a sprint.
Relieve the burden on overworked teams
Curiosity's Open Testing Platform takes the time and complexity out of rigorous message testing, automatically moving, masking and generating data based on production traffic. Production data analysis combines with Test Data Automation, finding and generating data that reflects the latest production trends. Finding specific messages is as quick and easy as specifying test data values, using on-the-fly masking to reduce compliance risks. Synthetic test data generation further ensures that the messages satisfy a rich array of test scenarios, rigorously testing systems based on the latest production activity. Running the analysis, masking and generation in bath mode continuously moves new data to test environments, providing the rich and compliant data needed for rigorous testing.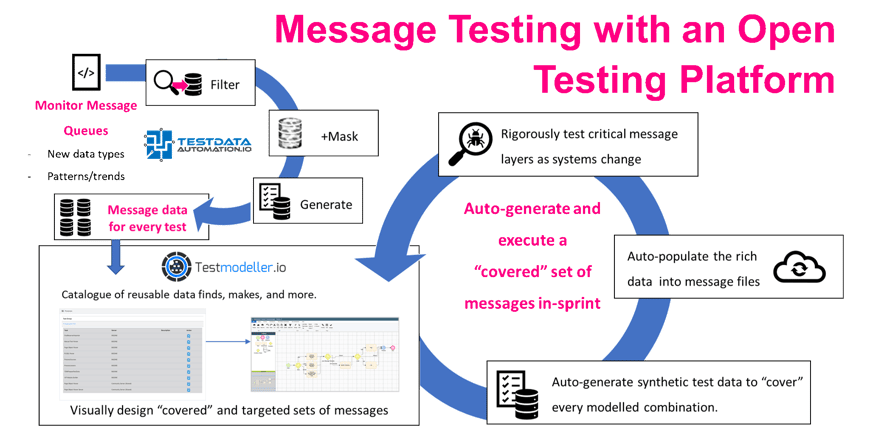 With Curiosity's Open Testing Platform, a range of message generation techniques provide the knowledge and assurance needed to test complex systems. Visual data design systematically creates "covered" messages from intuitive flowcharts, using Test Modeller to generate data for every modelled scenario. Coverage profiles further make it quick and easy to target test generation based on time and risk, using message templates to create realistic messages. "Message solving" furthermore removes the complexity of knowing how every data variable relates across complex systems, specifying a few values to generate complete sets of message data. Testers can also rapidly create clusters of messages and explode data at intervals, producing data for in-sprint testing.
Continuously find, make and mask the right data for testing
Watch this short example of XML message generation and testing using Curiosity's Open Testing Platform to discover how:
Test Data Automation automatically filters and extracts messages from production based on easy-to-define criteria, rapidly finding data that matters in testing and development.

Hundreds of out-of-the-box data masking functions and custom functions anonymise messages as they are moved to development, mitigating against compliance risks.

Automated message analysis monitors production data, making sure that development environments faithfully mirror the trends, patterns and density of production data.

Intuitive data visualisation identifies differences between production messages and development environments, rapidly providing new values needed for rigorous testing.

Synthetic test data generation leverages the automated message analysis, specifying the number of rows needed to create rich data in the volumes needed to test rigorously.

Visual data design in Test Modeller uses intuitive flowcharts to define a comprehensive spread of data, auto-generating "covered" messages to test all the modelled scenarios.

The same intuitive flowcharts can automatically generate new message data, scanning production messages to create a template and generating messages for every modelled test.

Defining multiple coverage profile for one model moves and generate different sets of messages, as needed to target message testing reliably based on time and risk.