The Power of modelling in test automation
In this Meetup, James Walker, Director of Technology at Curiosity Software Ireland, talks about the power of modelling in test automation.
The talk discusses the value of model-based testing and how it can be useful for every member of a delivery team. It showcases how visual test design is faster and easier to adopt without deep coding skills, while also allowing SDETs to make their code fully re-usable.
In the session, James sets out the common problems that organisations face when trying to adopt test automation. These include constant test maintenance and the unending struggle to source accurate test data.
James then offers a solution to these problems, providing a live demo of model-based testing using Test Modeller. The demo will show you how modelling can automate test creation, maintenance and test data allocation, while also transforming delivery practices beyond test creation.
This talk was delivered in the DevOps Bunker on the 9th of June, 2020.
Curiosity Software has a library of webinars available on demand. To get notified about new and upcoming events follow Curiosity on LinkedIn, Twitter and Facebook.
You will come away from this talk with an understanding of the vale of model-based testing using Test modeller. You will also see:
How modelling can help solve barriers to test automation adoption, from test creation time to script maintenance and test data provisioning.

The barriers 'agile' software organisations in particular are facing and how these may be solved with models.

How the ability to collaboratively use visual models provides continuous feedback, with cross-functional teams working from easy to understand flowcharts.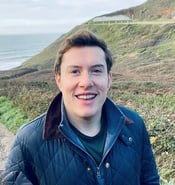 James Walker is Director of Technology at Curiosity Software and brings years of experience in successful software delivery. James has collaborated closely with a range of organisations to identify and resolve their QA needs and has invented several success Model-Based Testing technologies. James' wealth of expertise will be on offer during the Meetup, including a live Q&A to help you to identify how model-based testing might be a good fit at your organisation.