DevOps Integration Engine
High performance bots reliably copy repetitious processes that slow your workforce down.

A simple approach to automating your processes, picking from the technologies you use and setting some criteria.

Fully connected, updating information reliably across the full range of tools and techniques that underpin your business.
VIP works with your existing technologies and files, to perform repetitious tasks for you, and make sure you have the information you need, when you need it.
What Can VIP Do For You?
It frees up your workforce to focus on delivering value to your business, its clients, and internal teams, not on manual processes.
VIP lets you:
Automate Manual Processes
letting high-performance bots perform repetitive tasks for you.
Transform Data
and move it to relevant fields, automatically keeping teams and platforms up-to-date.
Rapidly Integrate New Technologies
into automated workflows, to retain a competitive edge.
Digitalize Documents
upon arrival, removing the time and errors associated with manual data scraping.
Aggregate and Analyze Information
arriving in emails, social media, web feeds, and more, with alerts curated to your needs.
Create Seamless Communication
by auto-updating data across tools, sending updates to people who need to know about changes made.
High-Performance Automation, Plugged in to your world
VIP is about speed, consistency, and easily automating manual tasks.
Process Automation with VIP is:
Easy to Understand
without a coding background, using visual models to create or review automated business processes.
Fully Connected
using common interfaces and custom connectors to synchronize information across technologies and teams.
High Performance
running processes in batch or through existing applications, with the load spread out for maximum speed.
As Sophisticated as Your Processes
with modelling that assembles complex processes faster than trying to "code" them.
Consistent and Repeatable
working from a library of activities to integrate processes, rather than a mix of scripts, code, and processes.
Flexible
with a comprehensive range of filters to configure automated processes to match your technologies and business needs.
When Would i Use it?
VIP performs repetitious but important tasks for you, and synchronizes teams and technologies.
VIP excels when:
You need to move information, transform it and push it into other systems.
You need to merge, report and modify data.
You need to build an information workflow that interacts with other systems or humans.
You need to link together ERP systems in an easy to use and easy to change way.
You wish to interact with AI or Rule based systems to control systems behavior.

You wish to spread the load of intensive processes across multiple systems.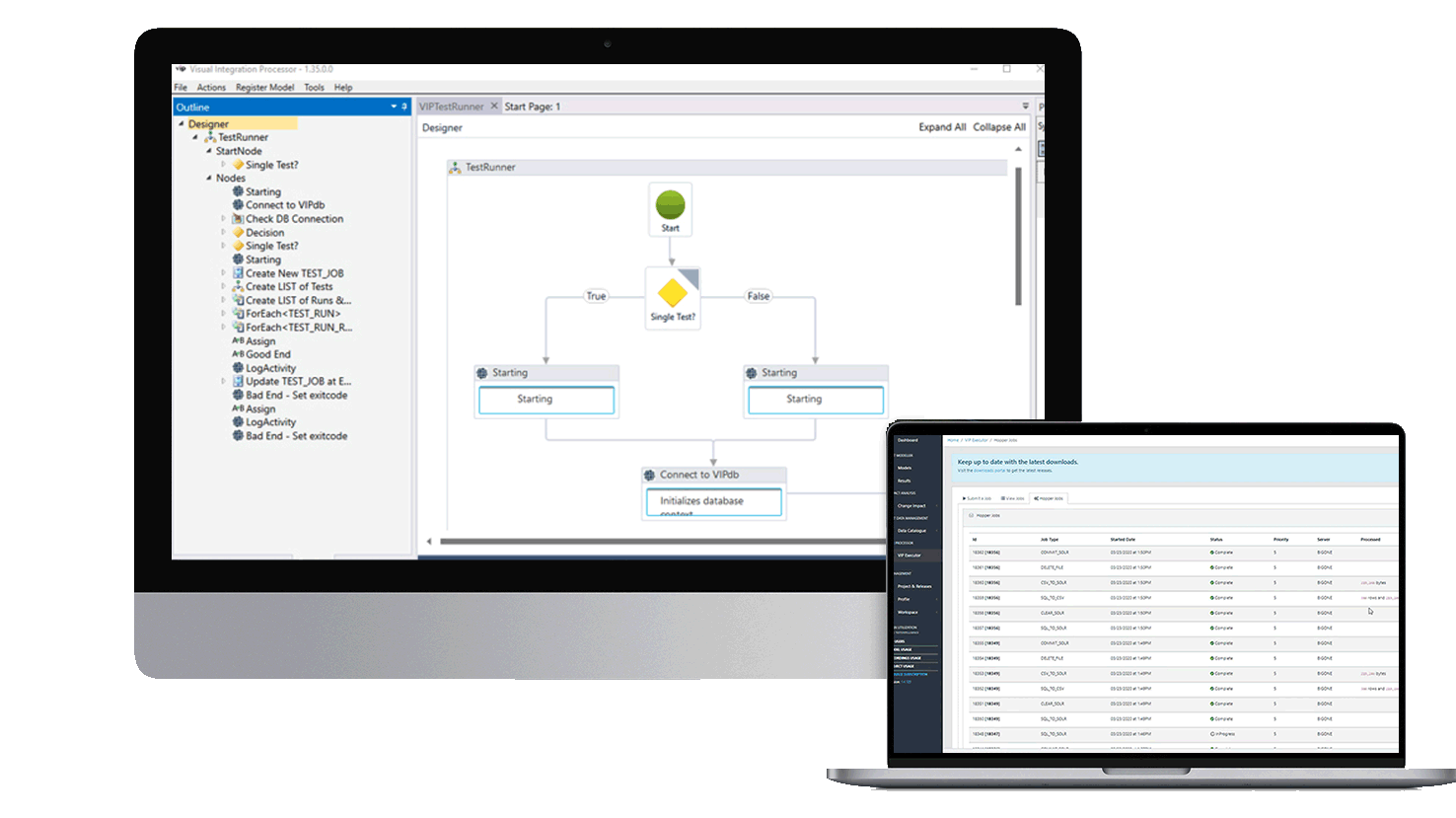 Curiosity uses a visual and intuitive, drag and drop approach to add to our ever-growing library of automated business processes.
You can use the standard packs of processes, choosing from a flexible range of filters to quickly get the high-performance bots running in your world.
Need something completely new? Your technical teams can assemble their own re-usable processes quickly using the drag-and-drop approach, or Curiosity can quickly and accurately add new processes to the central libraries.
How do I use it?
VIP comes with a large range of standard processes out-of-the-box, and Curiosity constantly collaborates with its clients and partners to add to these packs.
Start automating your way:
Let Curiosity know the tools and files you use, and we will provide a configuration tailored to you.
Teams with some coding knowledge can begin assembling new processes quickly in VIP, using a visual drag-and-drop approach.
Quickly and simply work with standard, out-of-the-box processes, choosing from a flexible range of filters.
Your workforce start benefiting from machines doing the heavy lifting for them, without noticing VIP working in the background!