Curiosity and Bloor Research Present
The Broken Promise of Test Automation
Why Are We Still Hand-Cranking Tests?
REGISTER FOR INSTANT ACCESS
The Broken Promise of Test Automation
Let's face it – in this day and age you can't test everything. Our environments have become too complex, while the allocated time for the construction and execution of tests is shorter than ever. With these constraints, two pressing questions arise:
• Are we building tests that truly matter for the release?
• Are we optimizing our regression suites in light of the changing application?
Believe it or not, this webinar is NOT a pitch about how AI or ML will magically solve your problems. Instead, Huw Price, Managing Director of Curiosity and Daniel Howard, Senior Research at Bloor Research, will offer a definitive plan for evolving sustainable automation.
Curiosity Director of Technology, James Walker, will be on hand to provide demos of the key technologies identified by Huw and Daniel. You will come away with actionable guidance for optimizing your testing, while tackling the time-intensive processes that test automation has introduced.
Join Huw, Daniel and James to see how testing can move beyond hand-cranking tests!
Curiosity Software has a library of webinars available on demand. To get notified about new and upcoming events follow Curiosity on LinkedIn, Twitter and Facebook.
This webinar will present the latest tools and techniques capable of achieving automation success. You will see how:
Automation that extends far beyond test execution;

Optimisation techniques for targeting testing exactly where it's needed;

Methods for capitalising on data created by integrated DevOps toolchains.

Huw Price is a test data management veteran and a serial entrepreneur, now founder of his fifth software start-up. Huw's 30 years of experience in software delivery has brought collaboration with a wide-range of organisations, large and small. He has crafted strategies and innovative technologies for test data success, on projects ranging from large-scale migrations from mainframe to open systems, to building best-of-breed test automation frameworks for microservices.

Daniel Howard is a Senior Researcher at Bloor Research. Following the completion of his Masters in Mathematics at the University of Bath, Daniel starter working as a developer and tester at IPL. His area of research is principally DevOps. However, His work includes all manner of software, web development and testing, usually in an Agile environment.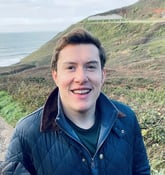 James Walker is Director of Technology at Curiosity Software and brings years of experience in successful software delivery. James has collaborated closely with a range of organisations to identify and resolve their QA needs and has invented several success Model-Based Testing technologies. James' wealth of expertise will be on offer during the webinar, including a live Q&A to help you to identify how model-based testing might be a good fit at your organisation.