Creating Quality Since 1995
25+ Years of Experience Driving Quality Across Enterprise Organisations

Quality Delivered: Curiosity's Success Stories
Curiosity's Platform
We Deliver Technologies for Large
Enterprise Organisations to Deliver Better Software Faster!
Align business and development and promote quality across requirements, development, test, and automation.
Fuelling enterprises with rapid, robust, and ready-to-use data for development and rigorous testing.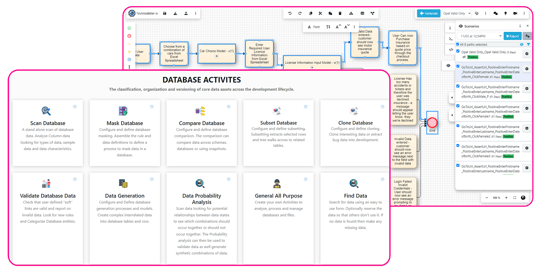 Solutions for Every Scenario
Test Data at Your Fingertips
Test Data Automation accelerates the delivery of valuable software, providing rich, compliant and affordable data at real-time speeds.
Create A Culture of Quality Across Your SDLC
Targeted Testing In-Sprint, For Your Tools and Frameworks
Auto-generate test cases and scripts into existing frameworks and pipelines, dynamically targeting test coverage to find bugs earlier and at less cost to fix.
Data that's Complete, Compliant and Bottleneck-free
Stop wasting time finding and making data. Stream rich and compliant test data on-the-fly during testing, development, automation, and CI/CD.
Build the Right System First Time Round, and Eradicate Bugs
Avoid costly defects and delays caused by poor quality requirements. Maintain "living documentation" in collaborative flowcharts, generating up-to-date user stories and specifications for rapid development.
Create A Single Source of Truth for Testing and Development
Integrate DevOps toolchains and create a traceability lab for your SDLC. Identify the impact of changes in user stories, tests, production and beyond, generating targeted tests to de-risk rapid software releases.