Case Study
8x Faster Test Creation at Eljin Productions
Discover how Eljin Productions successfully launched a business-critical payments platform using model-based test generation and synthetic test data generation.
SIGN UP TO READ THE CASE STUDY
Models drive rigorous testing at Eljin productions
Discover the benefits Eljin achieved when using Test Modeller
An initial 8x increase in test creation speed, using automated and optimised test generation.

An upgrade to test coverage that's as exhaustive as needed for fast, secure and bug-free releases.

The discovery of several major bugs before the first release of the Eljin platform.

A reduction in wasteful over-testing and defect remediation time.

A reduction in data privacy risks, using rich synthetic test data in test environments.

The creation of collaborative "living documentation" for testing and development.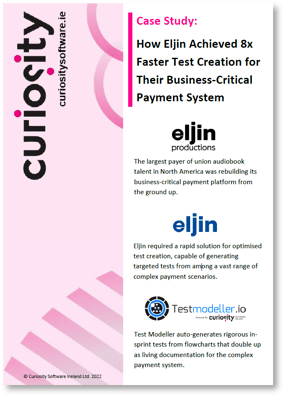 Testing a business-critical payment platform
Automated and optimised test generation at Eljin productions
As Eljin Productions were rebuilding their business-critical payment platform from the ground up, rigorous testing was imperative. The payment system, used to pay fees associated with unionised audiobook talent, automatically calculates and tracks the payment of talent-agency fees, union contributions, taxes, and more. Eljin required a rapid and automated test design methodology, capable of creating targeted tests from among this wide-range of possible payment scenarios.
Eljin selected visual, model-based test generation, creating optimised tests from "living documentation" of the payment system. This optimised test generation led to an initial 8x reduction in test creation time, while further boosting test coverage to insure the quality of Eljin's rapid releases. The intuitive visual flowcharts further enable closer cross-team collaboration, while synthetic test data generation has allowed Eljin to reduce the use of potentially sensitive information in testing.
Read this case study to discover how Eljin launched their business-critical payment platform successfully with Test Modeller.