Case Study
API Test Generation at ThinkDonate
Discover how ThinkDonate achieved optimal in-sprint test coverage and a 25x reduction in API test volume.
SIGN UP TO READ THE CASE STUDY
Shift Left API Testing
Discover the benefits ThinkDonate achieved when using Test Modeller
Rapid and targeted API test generation, testing rigorously within two-week sprints.

A 25x reduction in test volume relative to an "exhaustive" test suite.

Optimised test coverage, avoiding risky under-testing and wasteful over-testing.

The discovery of API bugs while they remained quick and affordable to fix.

The avoidance of costly rework in development, working from test-driven API specifications.

Close collaboration between product owners, development, and testing.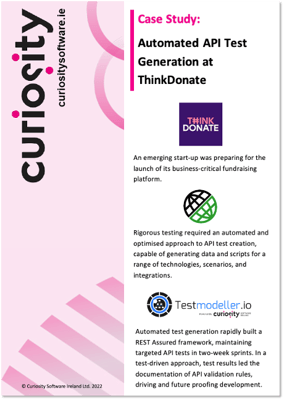 Rapid and Automated API Test Generation
Risk-based API testing informs design and development at thinkdonate
As an emerging startup, ThinkDonate had less than 7 months to bring its first-of-kind fundraising platform to market. They needed to develop rapidly, while delivering the impeccable user experience required by charities and their donors.
ThinkDonate required optimised and risk-based testing within short iterations, creating targeted API tests for an array of integrated technologies. The successful launch of ThinkDonate's platform further hinged on seamless collaboration between testers, developers and product owners, collaboratively maintaining "living documentation" for the fast-changing system.
ThinkDonate opted for a test-driven, shift left approach to API design and testing, auto-generating optimised test scripts from intuitive flowchart models. During two-week iterations, targeted API test generation occurred in parallel to development, with test results informing the design and documentation of clear API validation rules. This parallelised, model-based approach enabled Continuous Delivery, generating up-to-date API tests from the test-driven specifications used to drive development.
Read this case study to discover how ThinkDonate successfully launched their business-critical fundraising platform using Test Modeller.