Curiosity and fourTheorem Present
From Coverage Guesswork to Targeted Test Generation
REGISTER FOR INSTANT ACCESS
The Right In-Sprint Test Coverage
Even when every test passes, can you say with confidence that a system is ready to go live?

Assuring quality pre-release hinges on one question: Did you run the optimal set of tests to de-risk changes made in that iteration? Too often, testing cannot answer this question, due to poor traceability between tests, user stories, code and data. This limited traceability underpins a raft of challenges:
Test coverage is unmeasurable, or based on partially-educated guesses.

Updating tests is slow, manual, and unstructured, leading to mounting technical debt.

Shallow test assertions cannot say whether tests got the right results for the right reasons, especially at the code and database levels.
This webinar will set out how you can measure and consistently hit the right in-sprint test coverage. Curiosity's CTO, James Walker, and Peter Elger, CEO of fourTheorem, will set out techniques for linking tests, user stories, code and data, generating targeted tests based on changes across the SDLC. You will see how:
Automated test generation can target tests based on changing user stories and code.

Tracking tests at the code and data level boosts observability and creates close traceability.

Database comparisons verify that UI and API tests produce the right results in critical back-end systems.
Join James and Peter to discover how you can make every release with confidence!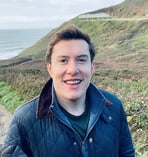 James Walker is Director of Technology at Curiosity Software and brings years of experience in successful software delivery. James has collaborated closely with a range of organisations to identify and resolve their QA needs and has invented several success Model-Based Testing technologies. James' wealth of expertise will be on offer during the webinar, including a live Q&A to help you to identify how model-based testing might be a good fit at your organisation.

Peter Elger has over 25 years of experience across a broad base of the IT industry in both the research and commercials sectors. Peter is also the co-founder of fourTheorem and a range of other companies including Stitcher Ads and nearForm! Alongside his success in the IT industry, he's also a published author, his latest books include AI as a Service and Node Cookbook.