de-risking migration from mainframe to cloud
You've likely already experienced the immense value of cloud-based architecture. 'The Business' are now increasingly aware of this value, too, and more are investing in cloud migration. However, there are risks as well, especially when migrating from legacy and mainframe systems.
These legacy systems are often poorly documented blackboxes, built or acquired decades ago. Developers might not want to touch them for fear of damaging business-critical processes, while testers are unsure about how exactly the new system should function. Legacy components are frequently therefore left late in migration projects. Yet, the new system must faithfully reflect the data transforms performed by these complex, interrelated systems. Late failure to migrate mainframe components therefore risks undoing the years of time and effort already invested in cloud migration.
This meetup will explore an approach to iteratively and rigorously testing mainframe migrations to cloud, all while building "living documentation" of the old and new systems. It will discuss how visual data flows build accurate logical pictures of legacy systems, while one flow can generate automated tests for both legacy and new components. This enables iterative snapshot comparisons of the two systems, fixing potentially devastating bugs as they arise and maintaining accurate documentation of both systems. Testers and developers in turn know exactly what needs developing and can test each component as it moves, reliably migrating legacy throughout the project.
Curiosity Software has a library of webinars available on demand. To get notified about new and upcoming events follow Curiosity on LinkedIn, Twitter and Facebook.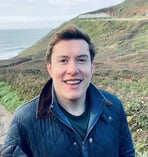 James Walker is Director of Technology at Curiosity Software and brings years of experience in successful software delivery. James has collaborated closely with a range of organisations to identify and resolve their QA needs and has invented several success Model-Based Testing technologies. James' wealth of expertise will be on offer during the Meetup, including a live Q&A to help you to identify how model-based testing might be a good fit at your organisation.

Huw Price is a test data management veteran and a serial entrepreneur, now founder of his fifth software start-up. Huw's 30+ years of experience in software delivery has brought collaboration with a wide-range of organisations, large and small.
He has crafted strategies and innovative technologies for test data success, on projects ranging from large-scale migrations from mainframe to open systems, to building best-of-breed test automation frameworks for microservices.