Advanced ETL Testing
Rapidly Test Complex Data Transformations.
Test Modeller provides a complete and customizable framework for ETL testing that is rigorous, efficient, and reactive to change.
Rigorous, detecting transformation defects before they can undermine business-critical decisions.
Efficient, with end-to-end automation of complex and resource-intensive tasks like test case design and maintenance.
Flexible and reactive to change, using central models to quickly and easily maintain existing tests within an iteration.
Structured and measurable, with expected results fully defined, and coverage measures to know exactly what is being tested.
Plugged into your world, with integrations into existing ETL automation frameworks, and connectors into multiple message formats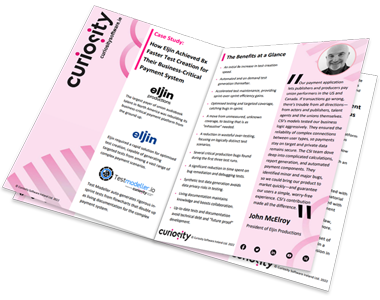 8X Faster Test Creation At Eljin Productions
Learn How Models Drive Rigorous Testing at Eljin
Discover the benefits Eljin Productions achieved when using Test Modeller to successfully launch a business-critical payments platform using model-based test generation and synthetic test data generation.
Identify inaccurate transforms before they undermine business intelligence
Test Modeller plugs into your existing ETL frameworks to automate the manual tasks that slow you down, all optimised for rigorous testing that keeps pace with changing business requirements.
ETL Testing with Test Modeller:

Slow and incomplete ETL testing:

1. Rigorous Test Case Design:

Accurately model complex transformations as easy-to-use Business Process Models, and automatically generate test cases with which to test every scenario rigorously.

1. Tests Leave Critical Data Exposed to Inaccurate Transformations

Slow and manual test creation only tests a fraction of possible scenarios, while expected results are unknown or poorly designed.

2. Every Scenario Covered:

Generate test data to execute every possible test, using powerful but simple data generation functions.

2. Test Data Prevents Testing Rigour:

Copies of low-variety production data risk legislative non-compliance and do not contain all the data needed for rigorous testing. New or unexpected data scenarios need to be created manually.

3. High-Performance Test Execution:


Test Modeller assembles the data input files for the complete test cases and data, and automatically compares expected to actual results.

3. Slow and Erroneously Data Comparisons:


Testers manually input large quantities of complex data into the system under test, before comparing the copious resultant data to poorly defined expected results.

4. Testing Keeps up with the Rate of Change:


Simply update the central model to maintain test cases and data as the business requirements change.

4. Testing Falls Behind Changing Business Requirements:


Data is refreshed and re-edited when requirements change, and the thousands of existing test cases must be checked and updated by hand.