In-sprint regression testing
Today's systems change faster than ever, growing more complex with releases that take just weeks or months. This cadence is great for innovation but poses a challenge for regression testing. QA now has less time than ever to test the impact of changes across increasingly complex systems.
This session will set out a model-based approach to maintaining rigorous regression test suites in-sprint. The live demo and interactive discussion will present a requirements-driven approach, maintaining up-to-date scripts and data for a Cypress.io framework.
This collaborative, cross-team approach enables QA and developers to know exactly what has been impacted by the latest system changes, prioritising regression for in-sprint testing. The same approach furthermore automates cumbersome processes that can push testing behind releases. This includes repetitive test scripting, complex data provisioning and manual test maintenance.
Sounds too good to be true? Join James Walker to learn how you can create and execute targeted regression suites in the shortest iterations!
Curiosity Software has a library of webinars available on demand. To get notified about new and upcoming events follow Curiosity on LinkedIn, Twitter and Facebook.
This webinar will show you how combining visual models with existing test automation frameworks can remove some of the most challenging barriers to in-sprint regression. You will see how:
Model-based test design re-uses existing code to generate bespoke scripts and data, avoiding time lost checking and updating repetitive scripts.

mporting and continuously modelling change requests enables reliable impact analysis, prioritising test generation accurately based on time and risk.

Model-based 'Test Data Automation' finds and makes accurate data combinations as tests run, replacing time lost to manual data provisioning and data clashes.

Visually modelling systems enables product owners to update requirements models directly, collaborating with automation teams to create up-to-date regression packs.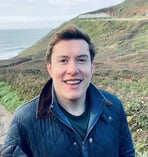 James Walker is Director of Technology at Curiosity Software and brings years of experience in successful software delivery. James has collaborated closely with a range of organisations to identify and resolve their QA needs and has invented several success Model-Based Testing technologies. James' wealth of expertise will be on offer during the webinar, including a live Q&A to help you to identify how model-based testing might be a good fit at your organisation.