From "Manual" test automation to in-sprint regression
This webinar took place online, on the 18th of February, 2021 at 11am GMT / 3am PST.
ACME Corporation, like any organisation today, required test execution automation to meet the deadlines of rapid releases. However, introducing multiple automation frameworks had also introduced several manual processes. Cumbersome scripting, test data requirements and test script maintenance were pushing testing ever-further behind releases. In short, ACME required a new approach to delivering quality at speed.
ACME found a solution in flow-driven test design. As this session will discuss, they first integrated visual flows with their existing frameworks, generating optimised test scripts and data from the easy-to-maintain flows. Immediately this achieved drastic savings in test script and data creation time, while on-the-fly test data creation provided perfectly matched, compliant data for every test. Meanwhile, test script maintenance became as simple as updating flows and hitting "generate". Every stakeholder in cross-functional teams could furthermore now contribute automated tests, even those without deep coding skills. This substantially accelerated automation adoption and helped pay off technical debt.
Already close to in-sprint regression testing, ACME next integrated model-based testing with source control systems, CI/CD pipelines and cloud-based test execution platforms. Updating models now automatically checks automation code into code repositories, triggering a build to execute tests across devices and platforms. Test results are furthermore updated across tools, closing the feedback loop for truly continuous testing.
This session will set out ACME's flow-based testing journey. It will discuss the value of flow-driven test automation, discussing further how collaborative flows impact the roles of software designers and testers. You will see how both can provide constant feedback on central flows, auto-generating rigorous test scripts in short sprints.
Curiosity Software has a library of webinars available on demand. To get notified about new and upcoming events follow Curiosity on LinkedIn, Twitter and Facebook.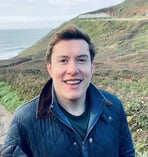 James Walker is Director of Technology at Curiosity Software and brings years of experience in successful software delivery. James has collaborated closely with a range of organisations to identify and resolve their QA needs and has invented several success Model-Based Testing technologies. James' wealth of expertise will be on offer during the webinar, including a live Q&A to help you to identify how model-based testing might be a good fit at your organisation.