On Demand Webinar
Model-Based Test Automation
Automate More, Automate Faster, Automate Accurately.
Model-Based Testing is one of the hottest trends in test automation, and you'll learn why in this webinar.
REGISTER FOR INSTANT ACCESS
Model-Based Test Automation
Test automation is not a new concept, yet automation rates remain too low for most organizations. QA Teams struggle to adopt maintainable frameworks, preventing enterprises from moving beyond isolated patches of automation quality. Test teams face a wide-range of barriers to automation success, including complex scripting, a lack of skilled engineers, and time-consuming test maintenance.
Modelling can lift these barriers, facilitating enterprise-wide automation adoption.
These technologies enable organizations to work from existing islands of quality automation, moving to enterprise-wide test automation. You can empower every tester at your organization to become an effective automation engineer. Sounds too good to be true? Come and see for yourself!
Curiosity Software has a library of webinars available on demand. To get notified about new and upcoming events follow Curiosity on LinkedIn, Twitter and Facebook.
This webinar will present the latest tools and techniques capable of achieving automation success. You will see how:
Automated test generation replaces slow and repetitious scripting.

Easy-to-maintain flowchart models provide a simple way to build tests for a wide-range of frameworks.

Testers without coding skills can build tests rapidly, re-using code created by a core of skilled engineers.

Requirements including Gherkin specifications can be converted automatically to flowchart models, rapidly moving from new user stories to automated tests.

"Just in time" data resolution during test execution ensures that there is always up-to-date, valid data for every automated test.

"Single pane of glass" automation significantly reduces test maintenance effort, while maximising the value of test automation frameworks.
Huw Price and James Walker are directors of Curiosity Software and bring decades of combined experience in successful software delivery. They have collaborated closely with a range of organizations to identify and resolve their QA needs. Both have invented and built Model-Based Technologies and implemented successful Model-Based Testing strategies. Their wealth of expertise will be on offer during the webinar, including a live Q&A to help you to identify the best test automation strategy for your organization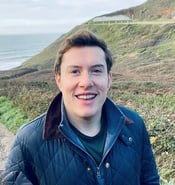 James Walker is Director of Technology at Curiosity Software and brings years of experience in successful software delivery. James has collaborated closely with a range of organisations to identify and resolve their QA needs and has invented several success Model-Based Testing technologies. James' wealth of expertise will be on offer during the webinar, including a live Q&A to help you to identify how model-based testing might be a good fit at your organisation.

Huw Price is a test data management veteran and a serial entrepreneur, now founder of his fifth software start-up. Huw's 30 years of experience in software delivery has brought collaboration with a wide-range of organisations, large and small. He has crafted strategies and innovative technologies for test data success, on projects ranging from large-scale migrations from mainframe to open systems, to building best-of-breed test automation frameworks for microservices.