Introducing Model-Based Testing to Your Cypress Framework
If you're part of this exciting new Meetup, then you are likely already a big Cypress fan! But what about visual modelling? What happens when you combine one of the most cutting-edge, fastest-growing automation technologies with the established science of mathematically-driven test design?
In this talk, James Walker will discuss the value of model-based test design for automated testing using Cypress. The session will set out a practical strategy for introducing visual modelling to Cypress automation, considering how it impacts technology, process and people. The focus will be on using model-based testing alongside existing frameworks, using visual modelling as an accelerator to generate, optimise and maintain Cypress scripts with matching test data. That way, you can focus on writing code for new and exciting system logic, feeding the re-usable functions and objects into a central repository. From there, it can be re-used at the model level, applying coverage algorithms to generate rigorous regression suites.
The result? Cross-functional teams can re-use your code to build new tests, while you can avoid the frustration of repetitious test maintenance, reduce the delays associated with test data, and minimise the time spent copying/pasting boilerplate code.
Curiosity Software has a library of webinars available on demand. To get notified about new and upcoming events follow Curiosity on LinkedIn, Twitter and Facebook.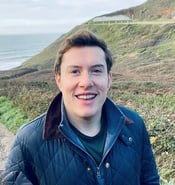 James Walker is Director of Technology at Curiosity Software and brings years of experience in successful software delivery. James has collaborated closely with a range of organisations to identify and resolve their QA needs and has invented several success Model-Based Testing technologies. James' wealth of expertise will be on offer during the webinar, including a live Q&A to help you to identify how model-based testing might be a good fit at your organisation.