Model-Based Testing for uft one and uft developer
This webinar is brought to you by the Vivit Testing Quality and ALM Special Interest Group (SIG).
There are some brilliantly engineered functional test automation frameworks out there, many of which use UFT (now referred to as UFT One) and LeanFT (now referred to as UFT Developer) to execute tests across hard-to-test systems. However, automating test execution alone does not guarantee testing speed or rigor. A structured and automated approach to test script and data creation is also needed to test vastly complex systems sufficiently.
This webinar will demonstrate how model-based test generation can remove the bottleneck of test scripting, while identifying the smallest set of tests needed for optimal coverage. You will also see how "just in time" data provisioning finds, makes, and prepares accurate data as tests are executed in UFT One or UFT Developer. If a system component changes, test teams only need to update the central models, rigorously testing complex systems in short iterations.
Formal modelling is possible in short iterations, using a range of accelerators to build models rapidly from complex systems and requirements.
Curiosity Software has a library of webinars available on demand. To get notified about new and upcoming events follow Curiosity on LinkedIn, Twitter and Facebook.
Register to watch this free webinar and see how:
Coverage-based test design enables automated test creation for UFT One and UFT Developer, generating the smallest set of tests based on time and risk.

Test data can be the greatest barrier to successful automation – but not if "just in time" data preparation is embedded as a standard step in automated test execution.

Model-based test design integrates seamlessly with existing UFT One and UFT Developer frameworks, using code scanners and templates to generate bespoke code accurately.

Modelling offers an effective technique for managing fast-changing, complex systems, breaking problems into smaller, easy-to-maintain chunks.
The following demos will give you a flavour of some of the techniques we will discuss in the webinar: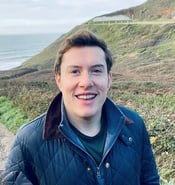 James Walker is Director of Technology at Curiosity Software and brings years of experience in successful software delivery. James has collaborated closely with a range of organisations to identify and resolve their QA needs and has invented several success Model-Based Testing technologies. James' wealth of expertise will be on offer during the webinar, including a live Q&A to help you to identify how model-based testing might be a good fit at your organisation.