Model-Based Test Automation for Ranorex
Rigorously Test Fast-Changing Applications
Generate optimised scripts and data from Ranorex repositories, rigorously testing fast-changing applications. Test Modeller and Ranorex remove the need for slow and complex scripting, creating bespoke automation from quick-to-build flowcharts.
'Manual' Test Automation is too Slow for Short Iterations
Automated test execution is a requirement for testing today's applications in short iterations. However, organizations today are struggling to achieve sufficient rates of automated testing, as automation introduces new bottlenecks. Most frameworks require slow and complex scripting, but QA teams lack the time and engineering skills to write thousands of scripts each sprint. The tests burn through data at phenomenal speed, but test data provisioning cannot keep up and invalid combinations lead to test failures. Each time the system changes, engineers must furthermore check and update scripts and data manually, and quickly there is a bigger backlog than there are hours in a sprint.
From Application Scans to Test Execution in Minutes
With the integration between Ranorex and Tess Modeller Modeller, testers with and without coding skills can become the fastest automation engineers. Easy-to-use recorders and the Ranorex Spy build object repositories automatically from scanned UIs, creating executable code without slow and complex scripting. The scanned modules can be pushed automatically to Test Modeller, ready to generate optimised tests and data from quick-to-build models.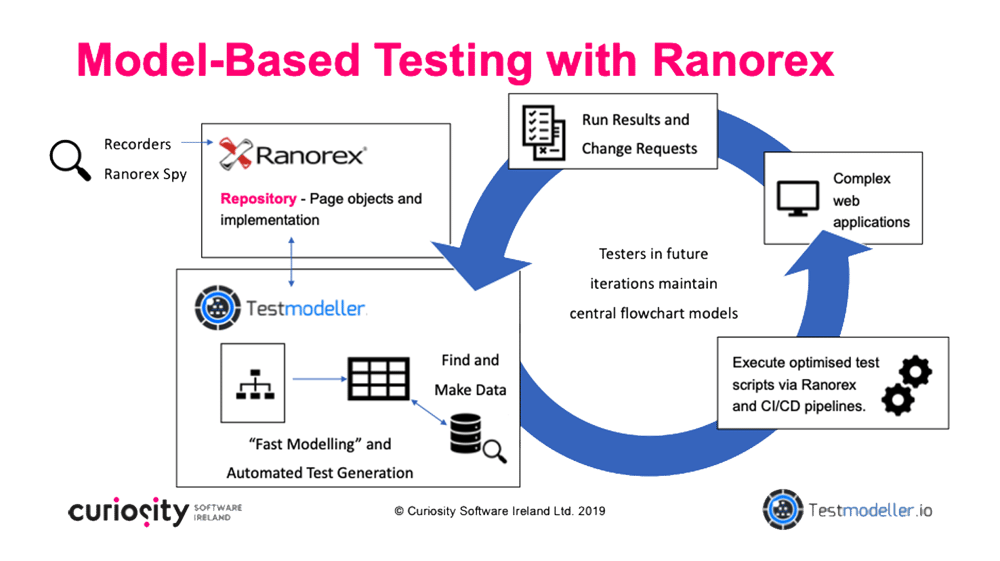 Building models in Test Modeller is as quick and simple as selecting from the imported models. "Fast Modelling" automatically identifies the equivalence glasses associated with each selected element, quickly creating complete flowcharts to drive rigorous testing. Automated data definition assigns synthetic test data generation functions to each element, before applying test generation algorithms to compile optimised tests and data. This creates the smallest set of Ranorex tests needed to "cover" all the logic in the modelled application, detecting defects earlier, and at less cost to fix. Testers in future iterations then only need to update the central flowcharts, rapidly regenerating Ranorex tests and data.
Model-Based Test

Automation

for Ranorex
Watch this short example of UI test automation for a Windows desktop application, and discover how:
Ranorex recorders and the Ranorex spy build automation object repositories in minutes, requiring no complex scripting to create executable code.

Test Modeller synchronisation engine automatically imports the object repositories, rendering Ranorex automation modules re-usable in the "Fast Model" builder.

"Fast modelling" builds flowchart models automatically as Ranorex objects are selected, identifying the logic associated with each object.

Automated data definition tags each object with a synthetic test data generation function, ensuring that every Ranorex test comes equipped with valid data for execution.

A range of test data generation algorithms automatically creates the smallest set of Ranorex tests needed to "cover" every positive and negative journey through the modelled application.

Re-usable subflows make rigorous end-to-end testing as quick and simple as visually assembling components and hitting "generate".

Test Modeller automatically compiles the test code as tests are generated, exporting the scripts and data back to the Ranorex file structure.

It's quick and easy to execute individual tests created by Test Modeller in Ranorex, while the whole test suite can be pushed to CI/CD engines like Jenkins, Bamboo and TeamCity.

Reflecting system changes in the easy-to-maintain flowchart models auto-updates tests and data, rigorously testing complex applications in short release cycles.