Automated SQL to Solr mapping
Take the time and complexity out of moving data to Solr
VIP takes the time and complexity out of moving SQL data to Solr, automatically mapping data based on DIH configuration files. A high-speed workflow then moves data into Solr servers automatically, providing access to the data needed to build quality systems using Solr.
Too much data, not enough time?
Solr offers a cutting edge, open source data search and indexing technology, used widely across business-critical systems today. However, its ability to process vast amounts of data in real-time can create testing and development delays. Solr development requires constant access to vast quantities of data, populated on demand into parallel environments. The data must be drawn from numerous different sources, requiring complex data mapping and alignment. Relying on manual processes to map and move the data risks misalignment and lengthy delays, as bugs make it into Solr systems due to a lack of available test data.
Automatically move data from SQL to Solr
VIP, Curiosity's high-speed and fully customisable workflow engine, removes the delays caused when moving data from SQL to Solr servers. An automated workflow reads a DIH configuration file to map data from SQL to Solr, reliably moving data without the delays caused by manual alignment. A rapid utility then generates the config file needed to perform parallelised loads, quickly moving hundreds of thousands of rows of data. VIP validates data for compatibility issues as it moves, providing accurate test and development data without the delays associated with complex data provisioning.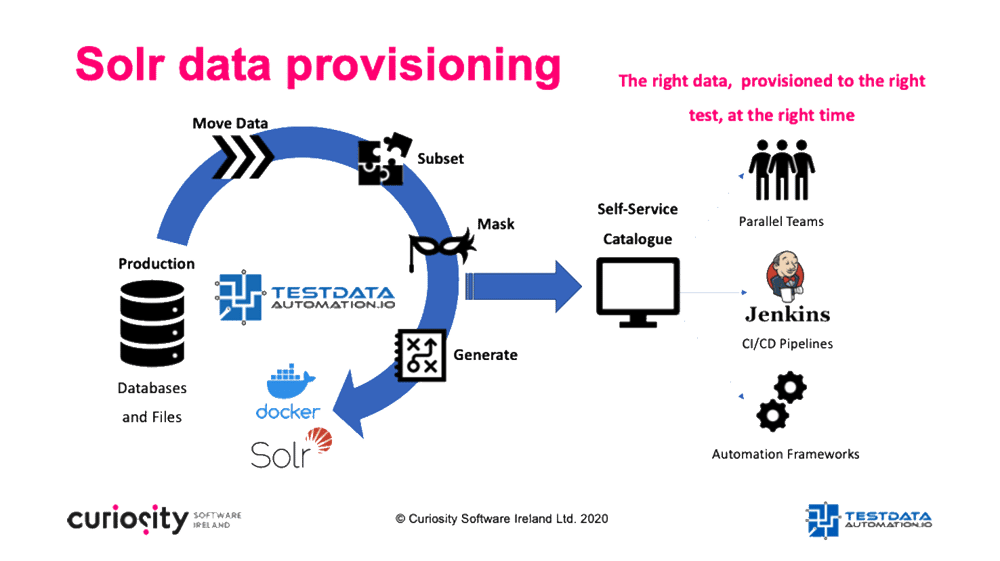 Take the time and complexity out of moving data to Solr
Watch this short demo of VIP's high-speed SQL to Solr utility to see how:
An automated VIP workflow uses a DIH configuration file to map SQL data to Solr, consistently moving data with slow and erroneous data alignment.

A rapid utility generates a database config file to move data to Solr servers, performing parallelised data loads in just a few clicks.

VIP validates data for compatibility as it moves from SQL, avoiding the bugs and delays created as misaligned data is moved into Solr environments.

The high-speed utility can be embedded seamlessly within complete Test Data Automation for Solr, populating masked and augmented test data into QA environments on demand.