Business Process Efficiency
The ideal business process is orderly, lean and efficient, with only as many customer touch-points as necessary. However, processes are frequently inefficient and costly, with regular loopbacks, bottlenecks, and deadlock scenarios. Such processes are ripe for improvement, but how can you identify where and how to make these improvements? This is particularly challenging when legacy systems are involved, and a lack of clear understanding of how system works often stands in the way of business process optimization.
Understand and Optimise Business Processes
VIP's RPA and Disco from Fluxicon enable you to gain a full understanding of your business processes, effectively identify areas ripe for speed and quality gains. You can reverse-engineer an understanding of complex processes from the data flowing across all your technologies, spotting rooms for improvement quickly in visual process models.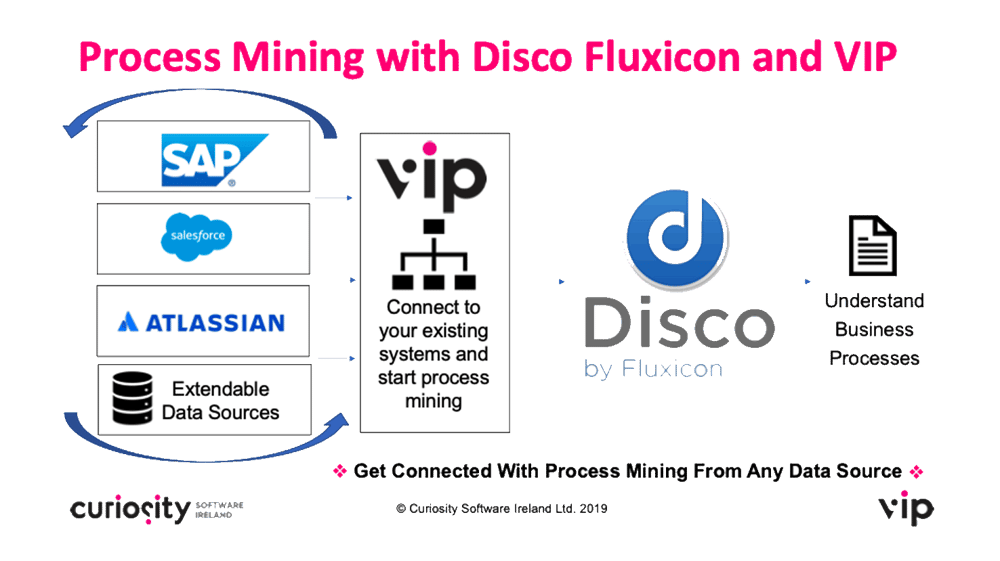 VIP's RPA allows you to work from historical data produced by the full range of tools in use at your organisation. The fully connected Robotic Process Automation framework connects into most common tools such as SAP and Salesforce, as well as databases and files. It is easily extendable via the API, UI or back-end, and allows you to collect and normalise data from across an organization.
The complete log file can be fed into Disco, creating clear and visual models of processes. You can identify loopbacks and inefficiencies at a glance, analysing the flow of events involved in your business processes. Granular analyses highlight where inefficiencies occur, providing an objective view of processes from which to identify ways to improve your customer experience.
What you'll learn in the above demo
Watch the above example of applying process mining to Atlassian JIRA, and learn how:
Data from across a wide-range of technologies can be extracted and analysed, using a visual drag-and-drop approach to build workflows in VIP's RPA.

The complete log files can be sent to Disco for process mining, producing clear and easy-to-use models of business processes.

Inefficiencies in the modelled events can be spotted quickly, with additional analyses of individual state transitions to spot potential improvements in how technologies are being used.