Model-Based Test Automation for Microsoft Dynamics 365
Automatically Generate Rigorous Functional Tests
Rigorously test Microsoft Dynamics 365 Applications after each new release. Test Modeller enables reactive and rigorous functional test automation for Dynamics 365, rapidly moving from application scans to model-based script and data generation.
With Dynamics 365, rigorous testing is business-critical
Microsoft Dynamics 365 Applications form the backbone of business-critical CRM and ERP operations for organisations worldwide. However, Dynamics 365 Applications are changing faster than ever, with regular releases delivering innovation to users. Each release risks unforeseen impacts on heavily customized implementations, and comprehensive functional regression testing must therefore be performed regularly and rapidly.
Test automation frameworks must therefore be reactive to application changes, but an over-reliance on manual scripting leaves QA teams struggling to keep up. Brittle tests break with each release, while innaccurate and out-of-date test data creates further bottlenecks. A new approach to automated testing is needed to ensure that business-critical applications deliver maximum value, avoiding bugs that hinder productivity and quality.
Rapid and rigorous functional test automation for Dynamics 365
Test Modeller removes the bottlenecks associated with overly manual functional test automation, rapidly and rigorously testing Dynamics 365 applications. An application scanner first generates new test code, selecting application elements to generate executable page objects and implementation code. This simple but flexible approach enables product owners, BAs, automation engineers and QA teams to generate optimised test scripts, importing scanned elements to visual flowcharts models and generating rigorous functional test suites.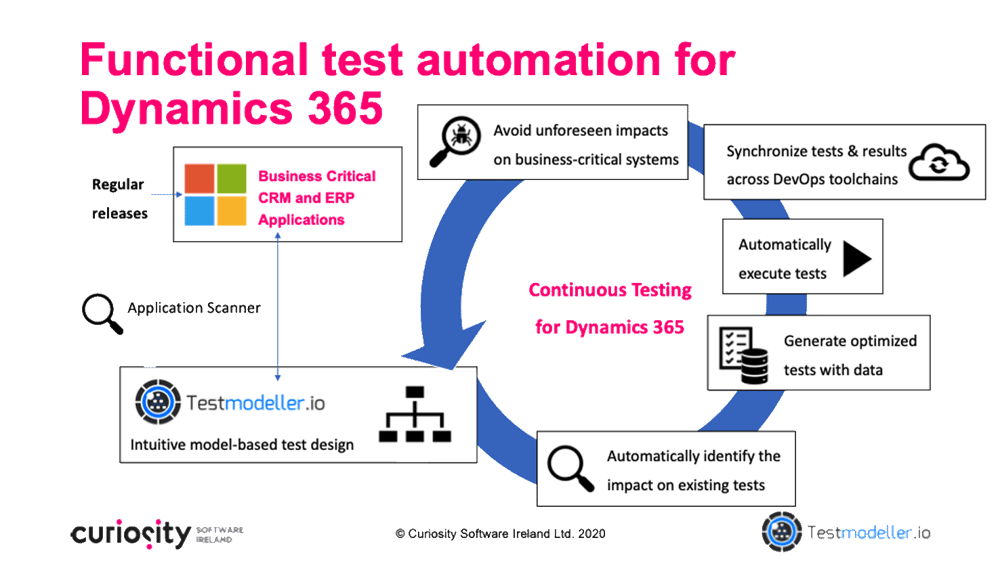 "Fast Modelling" helps ensure testing quality in this approach, modelling the logical equivalence classes needed to test each imported element. Applying automated coverage algorithms generates the smallest set of tests needed to exercise all the modelled logic, detecting bugs before they can damage business operations. Test data meanwhile is found, made and prepared on-the-fly, ensuring that every test has accurate data, while run results are synchronized across ALM, test management and test automation technologies. With Test Modeller, cross-functional teams can collaborate seamlessly from visual models, generating and executing complete automated test suites for Dynamics 365.
Complete functional testing after every Dynamics 365 release
Watch this short demo of functional test automation for a Dynamics 365 UI and discover how:
An application scanner removes test scripting bottlenecks, automatically building Page Objects and an implementation layer from scanned Dynamics 365 elements.

Test Modeller automatically selects the most reliable identifiers like aria-labels and data IDs, reducing the impact of application changes on Functional Test Automation Frameworks.

A customisable code generation engine creates bespoke test code directly into code repositories like Git and BitBucket, with support for C#, Java, Javascript, Python, and more.

Model-based test script generation rapidly creates the smallest set of test scripts needed to "cover" the application logic, reliably detecting bugs before they impact business operations.

Building logical models is quick and simple with "Fast Modelling" which models equivalence classes automatically as scanned elements are dragged-and-dropped from central repositories.

Re-usable subflows avoid time-consuming test failures and accelerate end-to-end testing, linking together re-usable models visually and generating tests that link consistently across screens.

Test Modeller automatically synchronizes test cases, run results and data across test managing, ALM, source control and test automation tooling, for full visibility and seamless collaboration.

Complete data is prepared and allocated on-the-fly during test generation or execution, eliminating the bottlenecks and test failures associated with test data.