Model-Based Test Generation for LeanFT
Optimise and Accelerate Functional Test Automation
Auto-generate optimised tests and data for Micro Focus LeanFT, rigorously testing fast-changing applications in short iterations. Test Modeller avoids unnecessary test scripting and ensures that every test has the right data, maximising the value of your functional test automation framework.
"Manual" automation cannot eliminate QA bottlenecks
Executing the functional tests required for sufficient test coverage in-sprint requires automated test execution. However, the best test automation frameworks cannot remove every testing bottleneck by themselves, and automating execution often introduces manual tasks of its own. The time spent scripting automated tests for complex application can outweigh the time saved during execution, while misaligned test data creates automated test failures.
Automated tests also break after a component in a complex system changes, but automation engineers cannot identify automatically which tests have been impacted by the most recent commit. QA teams must instead check and update exist tests individually, or otherwise allow invalid tests to pile up. These manual labours typically lead to a growing backlog of tests to automate, as engineers simply cannot keep up.
Automate test automation
Test Modeller maximises the ROI in automation frameworks, removing the bottlenecks associated with script creation and maintenance. Model-based test generation creates code for existing LeanFT frameworks, importing and re-using code from Java, Javascript and C#-based frameworks. The optimised tests are generated from flowcharts that are quick-to-build using a range of accelerators, quickly creating the smallest set of functional tests needed for optimal coverage.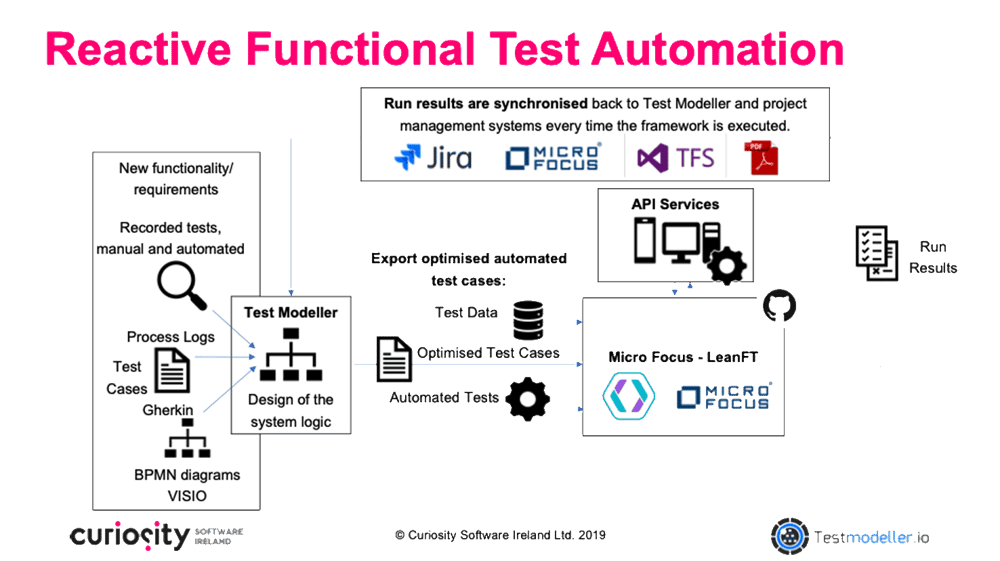 With Test Modeller, QA teams maintain rigorous LeanFT tests and data at the speed with which applications change. Test Modeller automatically finds or generates synthetic data as tests are created, ensuring that every LeanFT test runs smoothly with valid and up-to-date test data. Updating the easy-to-use models re-generates a new set of functional tests and data, avoiding wasteful maintenance of existing tests. Automation engineers can instead focus on creating new and re-usable code for complex mobile, web-based, desktop and SAP applications.
Rigorous Functional Test Automation using

LeanFT
Watch this short demo of functional web UI testing using a Java-based LeanFT framework and discover how:
Code scanners for Java, C# and Javascript import page objects from existing frameworks in minutes.

Intuitive visual models of the system define a complete set of possible test cases, and can be built rapidly using a range of connectors, importers and recorders.

Automated coverage algorithms generate the smallest set of functional tests needed to exhaustively test the model, or coverage profiles focus testing on critical or high-risk logic.

Complete test data is found or made automatically for every test, using over 500 combinable data generation functions to create all the data needed for rigorous functional testing.

Defining new automated tests is as simple as choosing from re-usable LeanFT objects, actions and assertions, removing the need for technical coding skills.

Re-usable subflows make complex end-to-end testing quick and simple, assembling components visually to test mobile, web-based, desktop and SAP applications rigorously.

A re-usable automated process creates test code to match bespoke LeanFT frameworks, generating the rigorous tests using existing IDEs and Continuous Integration pipelines.

Run results synchronise between LeanFT and Test Modeller automatically, as well as across ALM and test management tools like Micro Focus Octane and ALM.