Curiosity and RCG Global Services Present
Solving Test Data
The Greatest Quality Engineering Bottleneck for Enterprises Today?
REGISTER FOR INSTANT ACCESS
Discover Automated Test Data
Outdated test data management practices are today a sinkhole for testing and development time. They stifle release velocity, risk costly legislative non-compliance, and yet still do not provide the data needed to protect releases from damaging bugs. To achieve true quality at speed, the test data paradigm must shift. Enterprises must move beyond slowly copying large sets of production data to a limited number of out-of-date test environments.

In this webinar, Global Head of Quality Engineering at RCG, Niko Mangahas, will draw on extensive project experience to define the test data challenges facing enterprises today. He will then help you identify the right test data solution for your organisation, setting out principles for effective requirements gathering and program design. Niko will then hand over to veteran test data inventor, Huw Price, who will demo some of the latest techniques for making complete and compliant data available on-the-fly during parallel testing, development, and CI/CD.

Huw Price is a test data management veteran and a serial entrepreneur, now founder of his fifth software start-up. Huw's 30 years of experience in software delivery has brought collaboration with a wide range of organisations, large and small. He has crafted strategies and innovative technologies for test data success, on projects ranging from large-scale migrations from mainframe to open systems, to building best-of-breed test automation frameworks for microservices.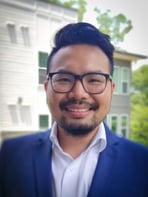 Niko Mangahas has over 15 years of Quality and Process Strategy Consulting for Information Systems across virtually every industry. Starting out as a developer, he found his true passion in process and testing management roles. Niko started and led Hewlett-Packard Enterprise's QA Solution Architecture team in the Asia-Pacific Region, growing the team and service revenue more than tenfold in through expanded pursuit efforts, unparalleled delivery excellence and truly innovative solutions. He now leads the Quality Engineering Practice for RCG Global Services, where he drives delivery strategy, standards and methodology, innovation and capability building internally and through technology partners.