eBook
Test-Driven Data Management: Advanced Test Data Automation
Bringing TDM in line with modern software delivery
Go beyond masking and subsetting, removing barriers to in-sprint test automation, allocating "just in time" data as tests run.
Modernising test data
Today, test data breaks DevOps. It doesn't need to.
Test data "best practices" today lag far behind automation in testing, undermining testing speed and quality.

Test data management utilities including masking, data generation and cloning can provide all the compliant data needed for rigorous testing.

Combining and embedding these utilities within test automation frameworks and CI/CD frameworks provides all the data needed for complete testing on demand.

The on-the-fly data "find and makes" allocate data for fully parallelised testing and development, built for environments with frequent application releases.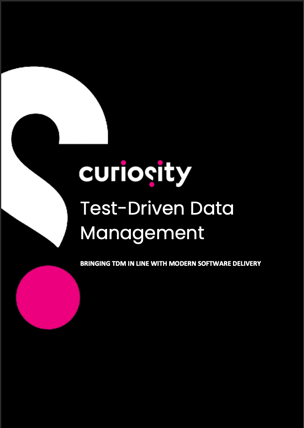 Executive summary
Removing barriers to in-sprint testing and development
Test Data Management (TDM) best practices have remained largely static for some 30 years now, with new technologies building on the same broad approach. Yet QA teams today face increasingly stringent compliance requirements and are under pressure to test ever-more complex applications in shorter cycles. A new TDM methodology is needed now more than ever. This eBook provides a complete guide to Test-Driven Data Management. It begins by setting out the ten most pressing problems associated with typical TDM techniques, considering why TDM needs to go beyond just copying, subsetting and masking data. Part Two then makes the case for a new approach to TDM that is truly test-driven, suited to parallelised development and highly frequent application releases.