Curiosity and EPI-USE Labs Present
Testing Across SAP and non-SAP Systems:
From Test Data Compliance to Continuous Innovation!
REGISTER FOR INSTANT ACCESS
Complete and Compliant Data
SAP is the heart of operations at many enterprises today, combining with best of breed solutions to enable cutting-edge IT strategies. This integrated architecture introduces test data complexity, often slowing down innovation across related systems. Delays in data provisioning can derail upgrades and migrations, as testers and developers require data that links across SAP and non-SAP systems. However, creating anonymised, consistent data for SAP and non-SAP testing is time-consuming and costly. Test data bottlenecks in turn force many organisations to choose between letting their systems fall behind innovation, or spreading sensitive data across less-secure test environments.

To keep pace with new innovation, data provisioning must match the speed, volume and variety demanded by automation frameworks and CI/CD pipelines. Organisations must embed SAP data management within a modern DevOps architecture.
This webinar explores a strategy for moving from masking data for SAP and non-SAP systems, to making complete and compliant data available at the speed of automated testing and CI/CD. Veteran test data inventor Huw Price and SAP data management expert Paul Hammersley will discuss how organisations can continuously test updates made across SAP and integrated systems. You will discover how:
EPI-USE Labs' SAP test data solution (Data Sync Manager) and Curiosity's Test Data Automation consistently mask data across SAP and non-SAP systems.

Data generation, coverage analysis, and cloning ensure that every framework and parallel test team has access to the data it needs.

On-the-fly data allocation provides delay-free data as tests run in automation frameworks and CI/CD pipelines.
Curiosity Software has a library of webinars available on demand. To get notified about new and upcoming events follow Curiosity on LinkedIn, Twitter and Facebook.

Huw Price is a test data management veteran and a serial entrepreneur, now founder of his fifth software start-up. Huw's 30 years of experience in software delivery has brought collaboration with a wide range of organisations, large and small. He has crafted strategies and innovative technologies for test data success, on projects ranging from large-scale migrations from mainframe to open systems, to building best-of-breed test automation frameworks for microservices.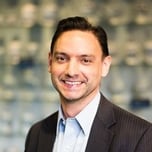 Paul Hammersley has for many years been a remarkable technical force at EPI-USE Labs. As SVP of the ALM Products, his portfolio includes System Landscape Optimization, and his hands-on experience of implementing Data Sync Manager and helping clients to manage data across the breadth of their SAP landscapes is unique. He has specialised knowledge about data security and how GDPR (the General Data Protection Regulation) impacts companies running SAP.