On Demand Webinar
In The Beginning there was a model
Using Requirements Models To Drive Rigorous Test Automation.
REGISTER FOR INSTANT ACCESS
in the beginning there was a model
Visual modelling is nothing new in software development, from the diagrams today drawn in sprint meetings, to defined methodologies like systems modelling, visual task analysis and UCML. Applied to perennial challenges in testing, modelling can accelerate test creation, reduce test maintenance time, and help define upfront the complex data needed for testing. In their fullest application, models bring stakeholders across the delivery lifecycle into close collaboration: System designers can formulate requirements in visual models, with engineers rapidly developing and testing in parallel from the accurate specifications.
Jim Hazen will discuss the practical value of different modelling approaches live on this webinar, illustrated through real-world experiences and stories. Posing whether any one approach can realise the full potential of modelling, Jim will hand over to Curiosity Director of Technology James Walker. James will provide a practical demonstration of cutting-edge techniques in model-based test and requirements design, discussing how they are helping organisations design, develop and build quality software in short iterations.
Sign up to discover practical strategies for delivering accurately built, rigorously tested software in short sprints!
Curiosity Software has a library of webinars available on demand. To get notified about new and upcoming events follow Curiosity on LinkedIn, Twitter and Facebook.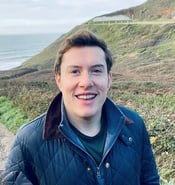 James Walker is Director of Technology at Curiosity Software and brings years of experience in successful software delivery. James has collaborated closely with a range of organisations to identify and resolve their QA needs and has invented several success Model-Based Testing technologies. James' wealth of expertise will be on offer during the webinar, including a live Q&A to help you to identify how model-based testing might be a good fit at your organisation.

Jim Hazen is a "Veteran of the Software Testing Trenches" who is a "Technical Tester" with over 25 years of experience in software testing. Jim has also presented at multiple professional conferences over the last 18 years, including STARWest and STPCon. Published articles in ST&QA Magazine on Test Automation and communication techniques for testers. Jim also published the book "Before The Code: First Steps to Automation in Testing" in March 2019.