using visual models to unlock bdd
In this Meetup, James Walker, Director of Technology at Curiosity Software Ireland, Discusses the core goals of behaviour-driven development (BDD), exploring how visual models can make them a reality.
The talk discusses how BDD can offer rapid communication as systems change, with close communication between all members of a software delivery team. It sets out how BDD aims to work in parallel from an up-to-date understanding of the desired system behaviour. Done right, that means no more miscommunication and a minimal amount of rework. In this session, James takes a deep dive into the criteria for successful BDD and the benefits it offers complex system development.
James then provides a live demo of Test Modeller, using the Gherkin importer to showcase how visual modelling can unlock the value of BDD. Watch the session on demand to see how Test Modeller helps cross-functional teams translate fast-flowing change requests into complete Gherkin specifications and automated test suites, rapidly moving from idea to release.
This talk was delivered in the DevOps Bunker on the 11th of August, 2020.
Curiosity Software has a library of webinars available on demand. To get notified about new and upcoming events follow Curiosity on LinkedIn, Twitter and Facebook.
You will come away from this talk with an understanding of BDD's core goals and how visual modelling can achieve them. You will also:
Gain an understanding of behaviour driven development and the benefits it can bring to software delivery teams.

Gain an understanding of how Gherkin can be utilised with Test Modeller's visual modelling and test generation.

See how visual models can be used to generate rigorous test automation and deliver quality software at speed.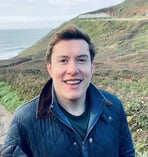 James Walker is Director of Technology at Curiosity Software and brings years of experience in successful software delivery. James has collaborated closely with a range of organisations to identify and resolve their QA needs and has invented several success Model-Based Testing technologies. James' wealth of expertise will be on offer during the webinar, including a live Q&A to help you to identify how model-based testing might be a good fit at your organisation.