Curiosity and Xray Present
In-Sprint Testing
Aligning tests and teams to rapidly changing systems
REGISTER FOR INSTANT ACCESS
In-sprint testing must tackle three pressing problems:
1. You must know exactly what needs testing before each release. There's not time to test everything.
2. You need up-to-date and aligned test assets, including test cases, data, scripts and CI/CD artefacts.
3. Test teams must know what needs testing, when, and have on demand access to environments, tests and data.

These problems are near-impossible to crack at organisations who struggle with application complexity, rapid system change, and overly-manual testing processes. Challenges include:
1. Test creation time. Manually creating test cases, data and scripts is slow and unsystematic, resulting in low coverage tests.
2. Slow test maintenance. Changes break tests, with little time in sprints to check test cases, scripts, and data.
3. Knowing when testing is "done". There is little measurability or peace of mind when systems "go live".
This webinar will set out how maintaining a "digital twin" of the system under test prioritises testing time AND maintains rigorous tests in-sprint. You will see how:
1. Intuitive flowcharts generate optimised test cases, scripts, and data.
2. Feeding changes into the models maintains up-to-date tests.
3. Pushing the tests to agile test management tooling then makes sure that teams know which tests to run, when, with full traceability and a measurable definition of 'done'.

James Walker, Curiosity's Director of Technology, and Sérgio Freire, Head of Product Evangelism for Xray, will set out this cutting-edge approach to in-sprint testing. Günther-Matthias Bär, Test Automation Engineer at Sogeti, will then draw on implementation experience to discuss the value of the proposed approach.
Curiosity Software has a library of webinars available on demand. To get notified about new and upcoming events follow Curiosity on LinkedIn, Twitter and Facebook.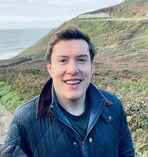 James Walker is Director of Technology at Curiosity Software and brings years of experience in successful software delivery. James has collaborated closely with a range of organisations to identify and resolve their QA needs and has invented several success Model-Based Testing technologies. James' wealth of expertise will be on offer during the webinar, including a live Q&A to help you to identify how model-based testing might be a good fit at your organisation.

Sergio Freire is a Solutions Architect and Testing Advocate at Xray. Sergio is passionate about technology, and an advocate of new technologies, frameworks, languages, methodologies, and processes. With over 20 years of experience in the software testing world Sergio is the perfect person to help you achieve great, high-quality, testable products.