eBook
Model-Based Testing: Navigating the API Labyrinth
Test automation that matches the speed and complexity of API-based development.
A practical guide to testing complex APIs rigorously within short iterations. Generate automated tests, data and virtual services from flowchart models that are quick-to-build and easy-to-maintain.
Targetted API Testing
because manually formulated tests barely scrape the barrel of api complexity
Testing even one API call involves massive complexity. This complexity grows exponentially as API calls are chained together.

A systematic and automated approach overcomes the complexity of testing complex chains of API calls.

Defining test data at the model level enables on-the-fly generation of test data automatically for every API test.

Model-Based test generation with Test Modeller, part of Curiosity's Open Testing Platform, further enables a targeted approach to in-sprint API testing.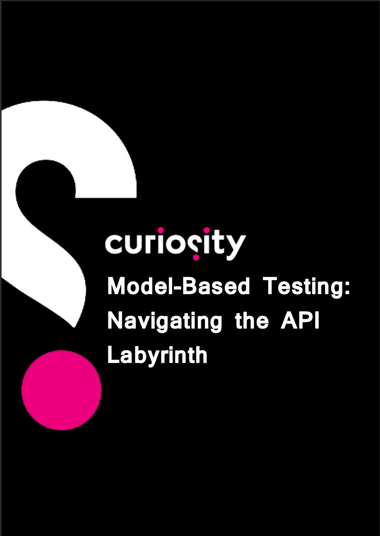 Executive summary
Quality assured in short iterations
APIs are the lifeblood of modern software, enabling organisations to reach across technologies and users faster than ever before. However, the flexibility to incorporate new building blocks into systems creates massive complexity in testing. Modern testing must match the agility of development, executing API tests that hit a vast number of logical combinations in ever-shorter iterations. This eBook sets out an integrated methodology for achieving exactly this. The model-based approach links optimised tests, data and environments to flowchart models that are quick-to-build and easy-to-maintain. As complex APIs change, parallel QA teams can quickly update the central models, auto-generating a set of up-to-date API for every combination.