Accelerated Testing and Development, Test Data Automation, Dynamic Test Generation, Requirements Digitalisation, Database Orchestration, Data Driven Automation
Better tests and better requirements deliver better quality software.
Generate clear specifications with matching tests and data, while bringing testers, developers and business analysts into seamless collaboration.
Quality in Every Dimension
8X Faster Test Creation at Eljin Productions
LEARN HOW MODELS DRIVE RIGOROUS TESTING AT ELJIN
Discover the benefits Eljin Productions achieved when using Test Modeller to successfully launch a business-critical payments platform using model-based test generation and synthetic test data generation.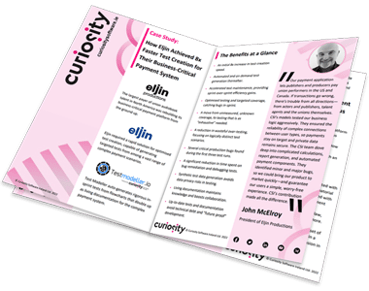 From generating requirements and optimised tests, to automated testing across hybrid architectures, our open technologies plug into your systems: