eBook
Building Sustainable Test Automation
Should you hire more people or buy "another testing tool"?
A guide to crafting test automation frameworks that are quick-to-build and easy-to-maintain, keeping up with changes to complex systems and environments. Avoid vendor lock and future proof testing, rigorously testing fast changing systems in short iterations.
In-Sprint Test Automation
maintainable test automation evolves as applications change
Relying on third parties to build automation frameworks risks creating an ongoing dependency on costly services.

Tool adoption must avoid creating silos and rework, picking technologies that interface seamlessly with existing tools and processes.

Sustainable test automation requires an approach that maximises reusability and automation in testing, seamlessly building on the efforts of past sprints.

An Open Testing Platform acts as an accelerator to existing tools and teams, identifying and generating rigorous tests in-sprint.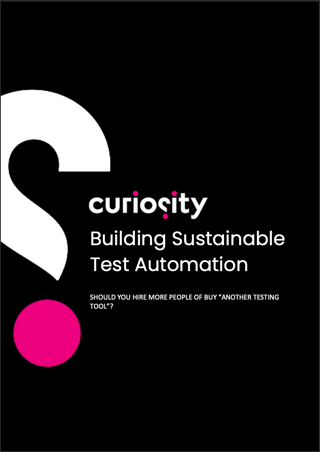 Avoid Vendor Lock
empower your tools and teams to test in-sprint
Organisations today are struggling to extend test automation adoption, which typically remain too low to keep up with fast-changing software. A lack of testing rigour then creates negative risk for business-critical software releases. Organisations are therefore seeking to reduce a reliance on manual testing processes. Many look to third parties to provide additional people-hours, while others purchase new tools. The first approach risks building an expensive "black box", creating a costly dependency on services to maintain the test automation framework. The second risks vendor lock and spending money on a tool that will become shelfware. This eBook sets out how an Open Testing Platform instead works as an accelerator alongside tools and teams, maximising reusability and automation in testing.