eBook
What's the relationship between Test Data and AI?
Enabling tests and automation to self-provision data on-the-fly
Move from test data bottlenecks to automation that learns from changes across the SDLC, allocating up-to-date data on-the-fly.
Moving beyond Test Data Management
Bring TDM up-to-date with Test automation, agile, and ai/ml
Test Data Management "best practices" today lag far behind developments in agile software development, DevOps, and Artificial Intelligence.

Creating "gold copy" data requires an integrated set of techniques that allocate complete and compliant data sets rapidly and in parallel.

Exposing parameterisable test data utilities to manual and automated requestors enables the self-provisioning of data on-the-fly.

Adding feedback loops to production and across the SDLC updates automated data allocation jobs based on change, mimicking human decision-making and learning.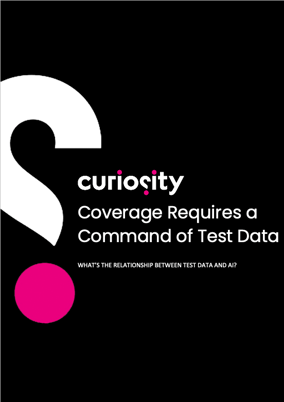 Test data automation and AI
On-the-fly test data access unlocks rapid software delivery
The promise of AI is clear to software organisations, many of which have identified Test Data Management as an area ripe for optimisation. This chapter discusses how enterprises can move from current TDM approaches, implementing AI for test data. It asks whether common TDM techniques used today are ready to fulfil the promise of AI, before setting out a roadmap for introducing intelligent techniques. It explores how test data provisioning can become self-sufficient and autonomous, incorporating behaviours that mimic human decision-making. You will discover how tests and parallel teams can self-provision data on-the-fly, triggering automated data allocation jobs that adjust to changes in production and the SDLC.