LoadRunner Performance Testing with Test Modeller
Model-Based API Load Testing for JMeter and OpenText (Micro Focus) LoadRunner.
Generate a complete set of JMeter tests, fully equipped with the JSON Messages and test data needed for rigorous Load Testing. Test Modeller then allows you to execute the performance tests in existing frameworks, before keeping API tests up-to-date from easy-to-maintain models.
Performance Testing Complexity
Performance testing cannot simply execute a high volume of tests using repetitious test data. Realistic Load tests must instead cover the full range of logic that users can exercise in production, as well as the full range of API action and database call that could exercise the data users input. Rigorous Load tests must further simulate the variety of real-world scenarios, with parameters to mimic the range of performance requirements systematically.
These variables already mean that there will be more possible Load tests than could be executed within an iteration, even with automated test execution. However, the testing complexity grows rapidly as system components are chained together. Rigorous Load tests must then cover every distinct combination of call and data involved across APIs. Each combination could be fired off in a complex chains of API calls, each of must be tested against.
Rigorous Load Testing for Multi-Tier Architecture
Test Modeller makes Load Testing complex systems simply, using visual flowcharts to generate test cases, test data, message data and automated tests.
Logical models map all routes to API end-points contained in a system, and are built rapidly using a range of connectors and importers. The flowchart models make it easy to assign test data and JSON message data, using dynamic data functions and an easy-to-use JSON builder.
QA teams can likewise define rigorous automated tests visually, picking from actions and parameters in a fill-in-the-blanks approach. Out-of-the-box action packs are provided for multiple frameworks, including JMeter and Taurus, while automation logic can be made available from commercial, homegrown or open source frameworks.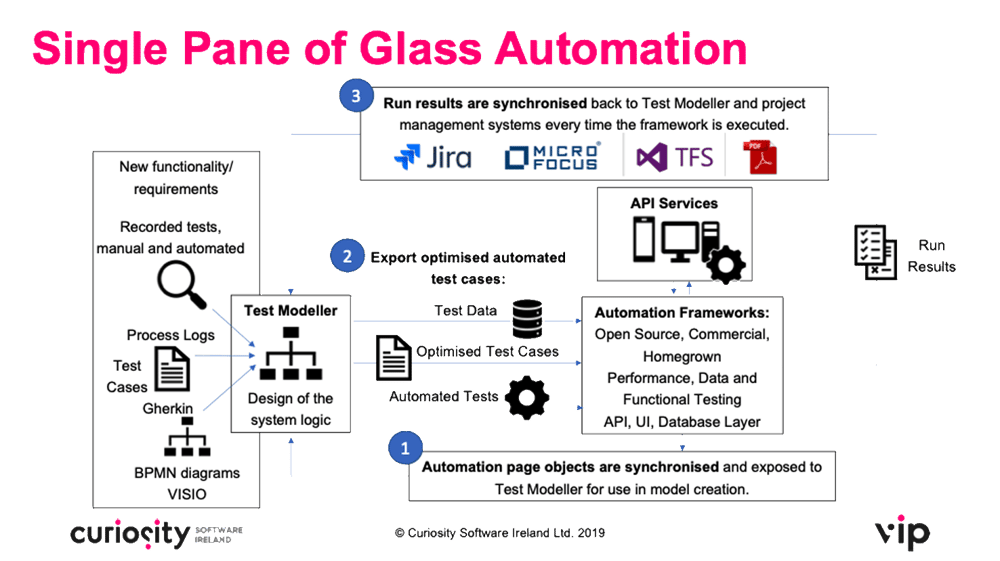 Test Modeller ensures testing rigorous, compiling the automated tests using mathematical coverage algorithms. The automated Load Test are then executed using existing frameworks, while otherwise complex test maintenance is as simple as updating central flowchart models.
Optimised LoadRunner Performance Testing
In this example of web testing against an eCommerce site, you will see how Test Modeller works with JMeter and OpenText LoadRunner to:
Rapidly build models of the system under test, using a range of importers and connectors to map the routes to end points in complex systems.

Define the test data variables needed to simulate real-world Workloads, using over 500 easy-to-use dynamic test data definition functions.

Build the complex JSON messages needed to inject the test data, using an intuitive, visual JSON builder.

Design automated JMeter Load tests using a low code approach, picking actions and actions from drop-down menus.

Parameterize the Load tests to mimic real-world scenarios, using a fill-in-the-blanks approach to define the number of users, ramp up time and loop count.

Quickly build end-to-end tests that validate complex chains of API calls, dragging-and-dropping subprocesses to build complex Load tests and data.

Generate the smallest set of Load tests needed to "cover" every combination of API call and data, using automated coverage algorithms.

Compile the tests and data into a .JMX file, and execute the complete Load tests using OpenText Load Runner.

Maintain Load Tests rapidly as the system under test evolves, simply updating the central flow chart models to regenerate a new set of tests and data.